Flagship TATNEFT filling stations
TATNEFT is one of the largest Russian oil companies today and is an internationally recognized vertically integrated holding. The company implements a strategic programme of development of full service filling station network. In 2020 TATNEFT owns retail and distribution network of more than 795 filling stations. TATNEFT and VDS have been strategic partners in the field of the development of the fuel distribution network. In 2019 the companies have started a joint project to develop and build flagship TATNEFT filling stations on a turn-key basis.
The format of the flagship filling stations
The format of the flagship filling stations is designed to accumulate the best global business practices and operating models so that the most effective of them will be applied in the future to the entire TATNEFT network.
Concepts and design embodied in TATNEFT premium filling stations have been created by the VDS Advanced development department team in accordance with global trends in design, materials and color. In accordance with the company' business objectives and suggestions of TATNEFT PJSC management, we proposed 4 different concepts for embodiment of the flagships. The TATNEFT management approved two concepts for implementation: "Home on the Go" and "Business Class".
The first concept of the flagship filling stations of Tatneft PJSC is based on the home archetype. Home is always a welcome destination and the end of any journey. The new flagship stations are intended to become a temporary home on the go for every driver. That is why the store architecture was inspired by modern retail facilities and private housing construction.
This is expressed not only in the laconic forms of the building, but also in the use of the "living" materials customary for this area of architecture: concrete, brick, metal, glass.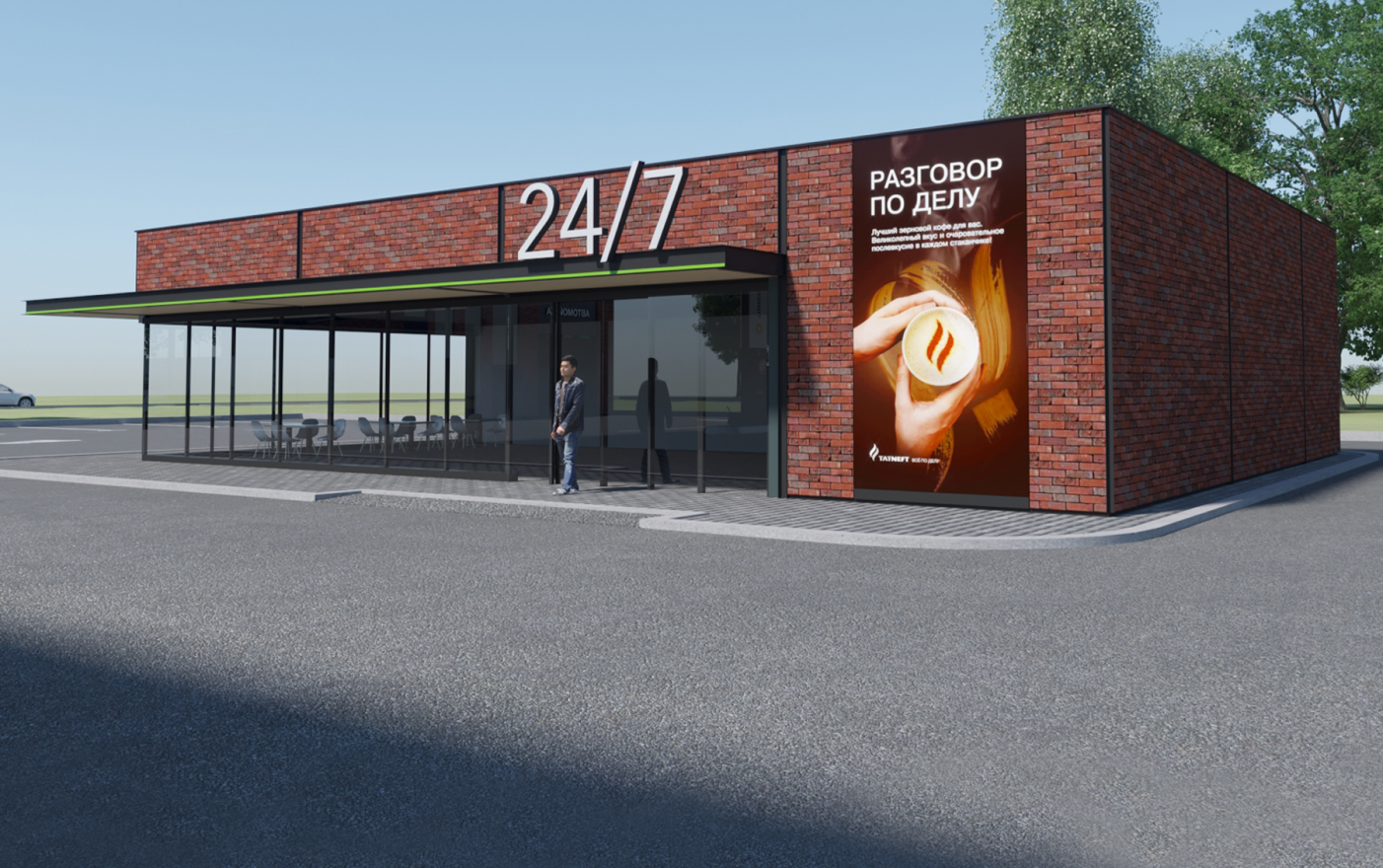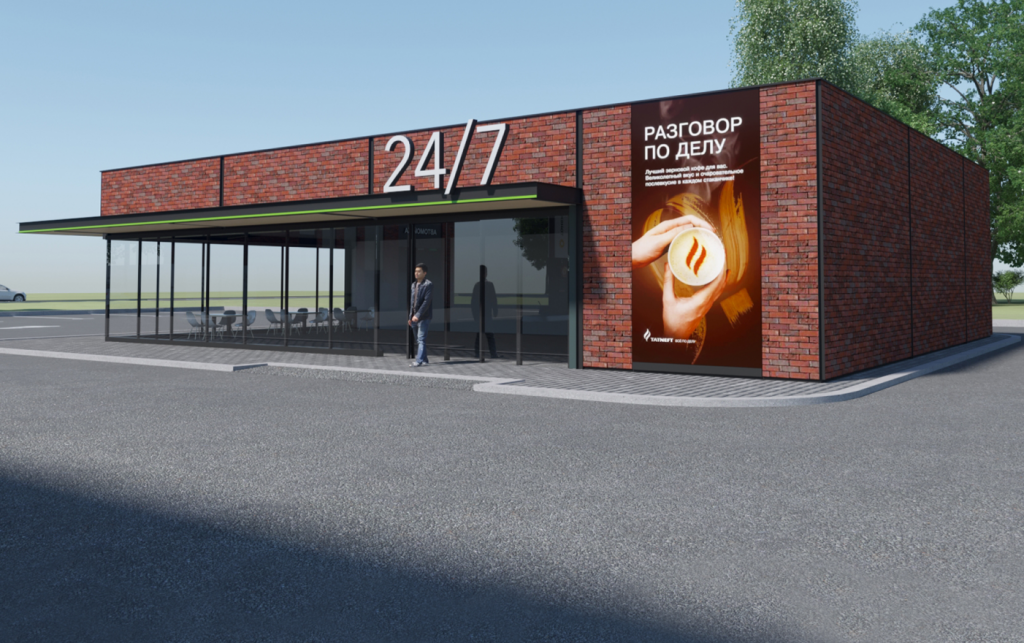 The "Business Class" concept is based on the idea that a premium filling station can become a place for business negotiations and meetings. By order of the customer's management, the Business Class concept was implemented in the style of TATNEFT PJSC main office – a black mirror prism. To enliven the austere and minimalistic look of the store, a visually light canopy was developed. Its expressive "branch beams" support the roof without unnecessary purlins. Thus, the facility is constructed in contrast: the solid structure of the building is balanced by an elegant canopy. When implementing both concepts, the VDS team was guided by the criteria of a fair architecture: all features are absolutely functional, devoid of decorative shells, while objects look elegant and harmonious.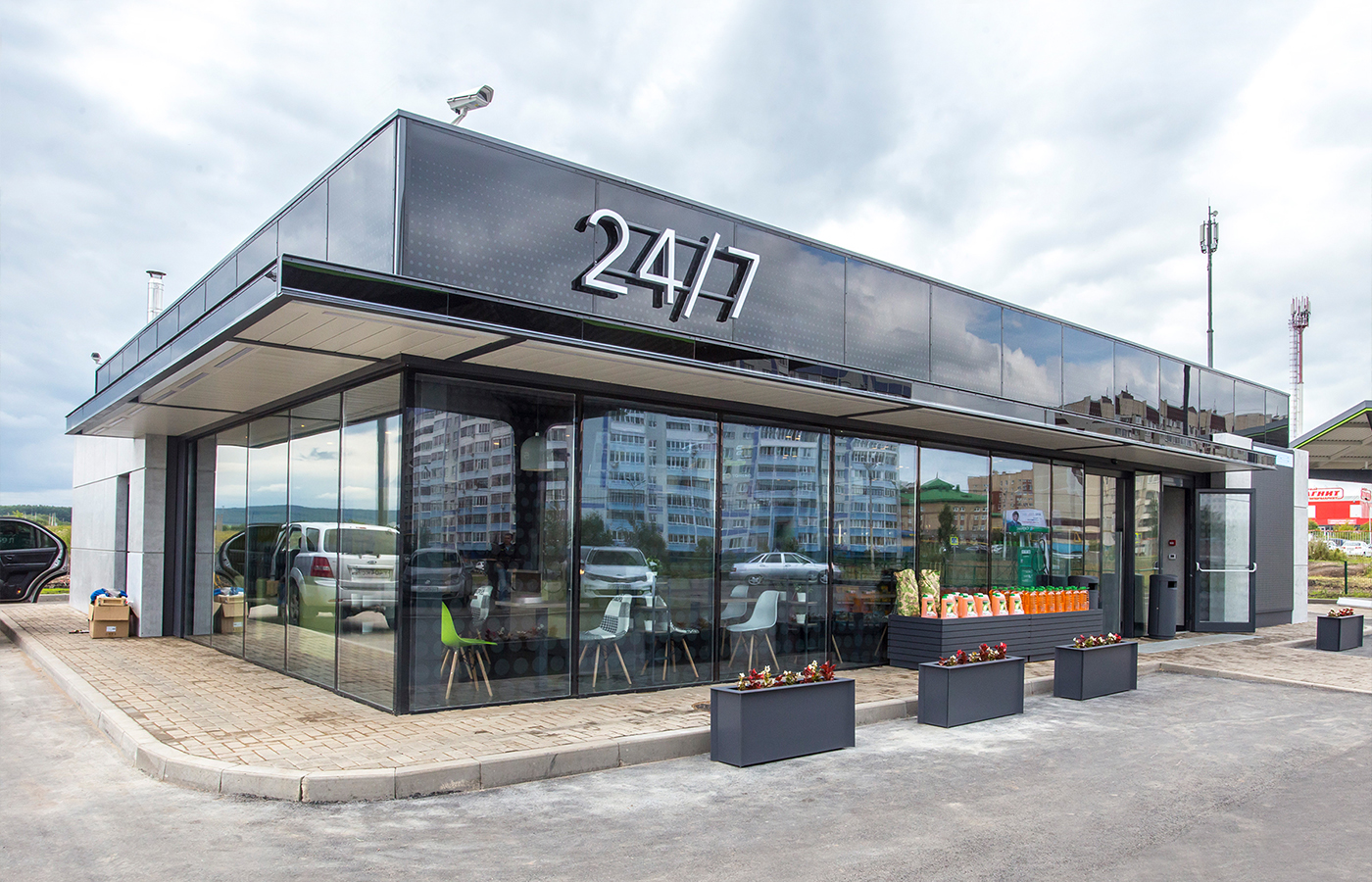 Car wash complex at flagship TATNEFT filling stations
Within the project, VDS created design, manufactured and installed main branded structures of car washing complexes at the flagship TATNEFT filling stations. Architecture was embodied according to flagship filling station concept "Home on the Go" maintaining the same corporate style. Car washing complexes under the TATNEFT brand operate in two formats: self-service car wash and touch-free robotic car washing sites.