The history of the VDS Group of Companies began in 1994 from a small workshop. Since its foundation, the Company has been managed by the owners.
At the beginning VDS was just a small advertising studio, quality of products and design being its principal advantages. Since its foundation, VDS has been managed by the owners: Alexander Artyukhovich, Petr Rabitsky and Alexey Shishko.
In 1998 VDS took part in the international "Autocomplex" exhibition in Moscow for the first time. The company presented RVI-elements and objects to future customers and continued to participate in this exhibition on an annual basis until 2015.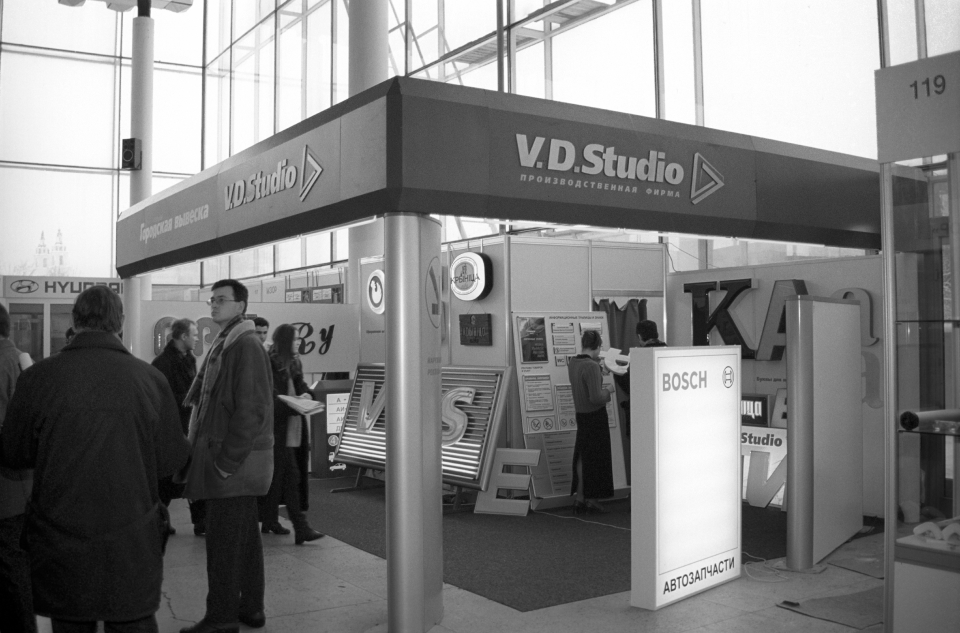 By 2000, we had acquired all the necessary equipment - milling and molding machines, an automated powder coating line and other high-tech pieces of equipment. Constructor teams were formed for the installation of advertising equipment. These resources allowed us to master serial production and installation of RVI kits. Our first smart pricing stele was made for LUKOIL.
It is still in operation at the filling station № 1 on the Pritytsky street in Minsk.
VDS's entered into the Kazakh market by means of cooperation with private companies such as PSP, Aurica and Helios. Cooperation with one of the key gas station operators KazMunayGas became a key event in the Kazakh market. As part of the joint projects with KazMunayGas, more than 300 filling stations have been equipped since 2010. The results of the projects ensured stable success for the client.
VDS has developed a number of projects of complex city decoration based on light compositions
and installations. The most technologically advanced were the Light arches in Moscow and the decoration of the Kremlin in Kazan. Significant architectural objects were erected for public spaces in Kazakhstan - the "Atyrau Kөniri" Bridge and the "Zhetysu" Arches. We continued cooperation with international concerns - Shell and BP, VINK - LUKOIL, ROSNEFT, TATNEFT and GAZPROM neft 
and oil companies - Belorusneft, Rompetrol, Alexela, TAIF-NK, Gas Energy, Compass, BVS, Sinooil, WOG, BTK, PTK, IRBIS, Gulf.
Presentation of a new corporate identity for LUKOIL took place in August. The task set was not about style, but rather about modern approaches to construction and RVI. The essence of the project was in the high innovation of products, as well as optimal costs and material consumption. Philosophy of the project: focus on the major things, removing the minor. Since September 1, 2020 VDS has started the implementation of the new strategy for the next 5 and more years. Our mission is to create strong competitive advantages for the client. The task is to go from individual projects to mass deliveries!