The update of design and rebranding of the interior led to the success of the Customer
VDS updated the style for the Rompetrol filling station network in 2019. The new concept became part of Rompetrol's strategy to increase its presence in the retail market, namely to popularize the "hei" brand - a store that meets the needs of customers in the field of non-fuel and gastronomic products. The concept was created in accordance with modern trends and optimization of production space for products of the gastronomic category.
ECO-issues and the formation of a positive mood among clients became the key decision in the development of the style, so the outer side of the object is made of environmentally friendly materials. Energy efficient equipment defines the updated look of ROMPETROL. There is more space in the sales area for preparing new types of fresh products. The minimalist style has been defined for visual advantage, highlighting the "hei" brand to display its attention to the wide range of products prepared at ROMPETROL filling stations.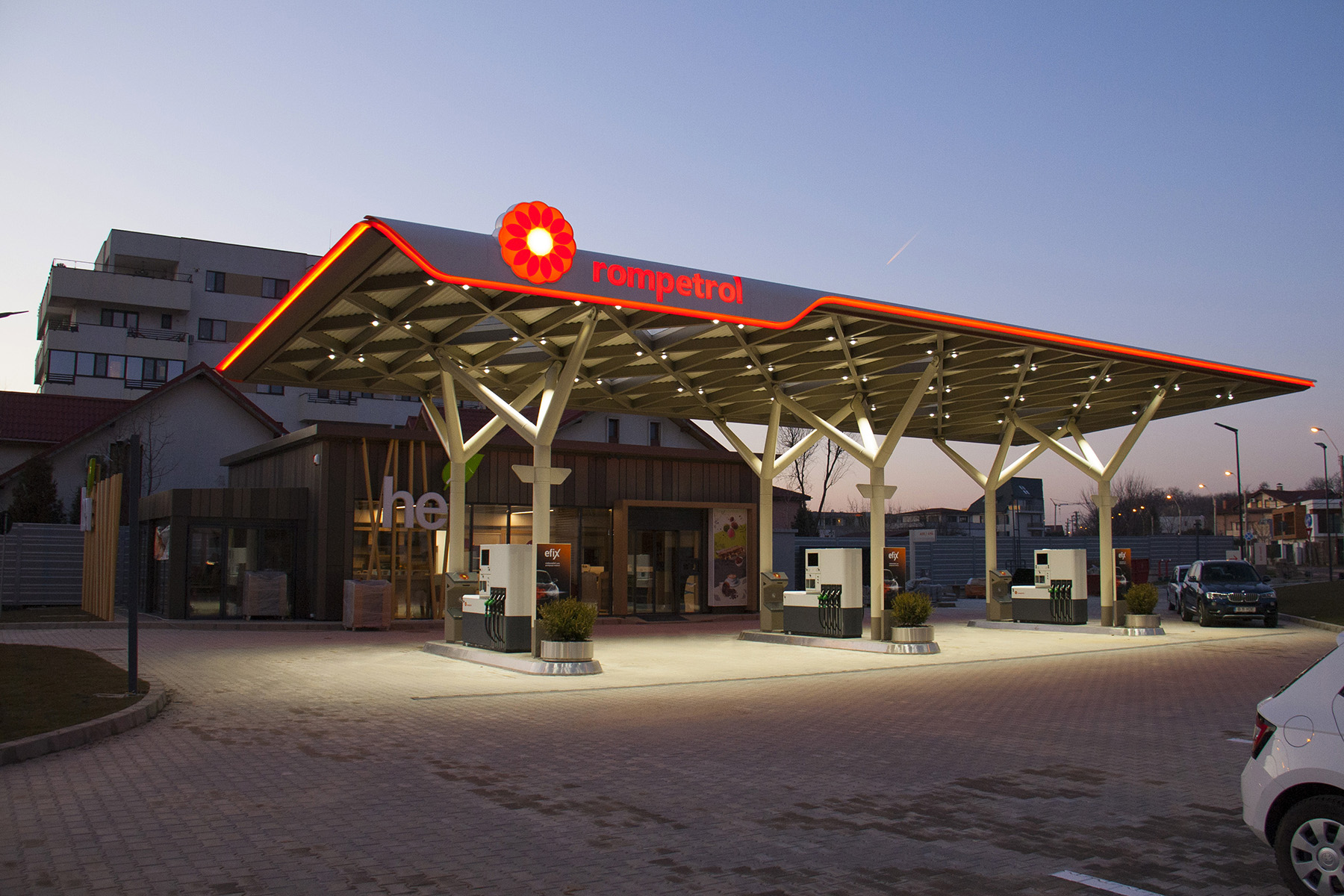 Innovative solutions for style updates
The VDS team applied a unique solution for the renewed Rompetrol station: the canopy roof is made in a "mesh" structure. It is one of the latest trends in the construction of bus stations, train stations and airports, and now it is used at Rompetrol filling stations. The VDS team built stained-glass windows into the canopy ceiling, which increased the light transmission, and motion-sensitive lights - this solution provides additional energy savings.
The previous design concept of Rompetrol filling stations implied the presence of two totems: price and image. The new design has two totems combined into one and a media screen is added.
Taking into account the focus on ECO-solutions, instead of "classic" bumpers in the area of fuel dispensers, stainless steel cabinets with live plants were used.